In honor of Shakespeare's birthday, I thought I'd share my favorite way to watch Shakespeare:
That's right; it's the 1999 teen classic "10 Things I Hate About You" with Heath Ledger, Julia Stiles and Joseph Gordon-Leavitt in their pre-Batman & Bourne days! It's based on Shakespeare's The Taming of the Shrew and is pretty cute.
And my favorite way to read Shakespeare: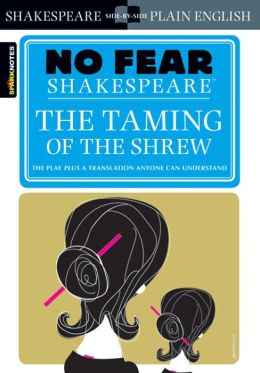 No-Fear Shakespeare!
It's a series of books by Sparknotes that have Shakespeare's plays in two-page spreads, so that on the left page you always have the original Shakespearean language and on the right, a line by line modern translation. Personally I really love not having to choose between the beautiful flowery language and actually knowing what's going on. I discovered these books originally in high school while frustrated with reading Shakespeare in class and then being expected on tests to understand it despite a lack of familiarity with Shakespearean language. I aced the next test and became addicted to No Fear Shakespeare. I love these books so much that I once convinced my college Honors professor to buy a copy of As You Like It for everyone in the program before we attended a live stage production of the play in the original Shakesperean language! I really think it helped us all understand and enjoy the play much more than we would have otherwise. So obviously, I highly recommend these books for anyone who loves the sounds of Shakespeare, but also loves understanding the plot intricacies!
My favorite so far is probably As You Like It. Yes, the tragedies are well-written and exciting with interesting storylines, but they are also so...tragic! I much prefer the comedies! What's your favorite Shakespeare play?
I actually am getting some free review copies of No Fear Shakespeare books-hurray!- but have received no compensation for this post.